GCOM 2022. Prague: 6 – 9 June 2022.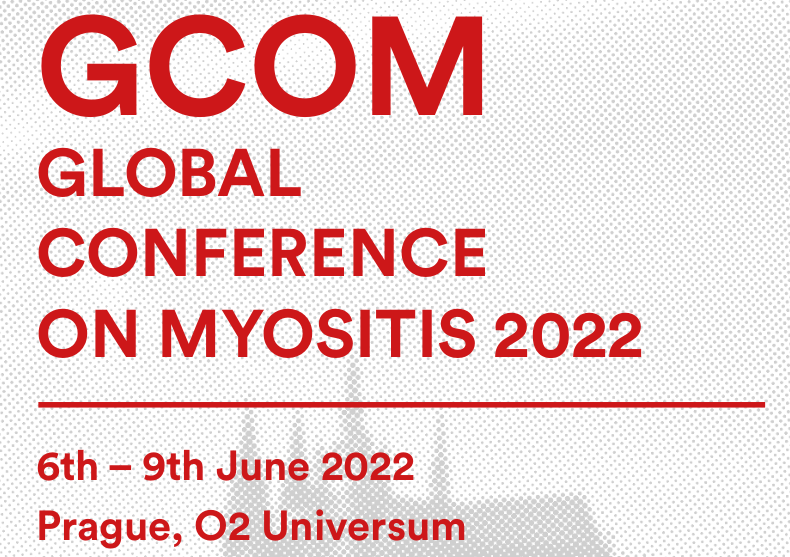 Prague GCOM has new dates – it will be held 6 – 9 June 2022.
Information and on-line registration is available here .
Because the pandemic situation may not allow participation at GCOM 2022 from some areas of the world, the meeting will be a hybrid one and program will be streamed also online and the lectures recorded and made available for distant access.
International collaboration research and treatment database for myositis specialists.
The world map of myonet / euromyositis.
This database has been created in order to obtain uniform, longitudinal data over adult and juvenile myositis cases in order to achieve increased knowledge on disease course and prognosis of myositis.
In addition, this registry could be used as a tool in the clinic to assess your patients.
The Euromyositis Registry was developed within the integrated European FP6 Autocure project and led to a creation of the basic database.
Starting from summer 2010, further development and support for 5 years was through the European Science Foundation Research Networking Programme EuMyoNet (European Myositis Network).

Contact information in 2010, 2011, 2012, 2013, 2014, 2015, 2016, 2017, 2018, 2019, 2020 and 2021
Dr. Hector Chinoy, M.D., Ph.D., The University of Manchester, 2nd floor, Stopford Building, Oxford Road, Manchester, M13 9PT, UK. Email: hector.chinoy@manchester.ac.uk
The database is organised into two major areas.
Patient data contain basic information that has ever been present during the duration of the myositis disease. This part is obligatory to fill in and all known information should be provided to every patient entered into the database.
Individual visits may be described in much more detail and are meant to follow longitudinal disease course in each patient. These visits contain details on the disease activity, including extramuscular symptoms, laboratory parameters, muscle weakness, physical abilities, treatment, autoantibodies, biopsy results and damage caused by the disease.
Each centre (hospital) only has access to their own data and each centre is responsible for maintenance of its database content. For defined projects you can get access to coded data from the whole data base after approval of the Steering committee.
The database is administered by company ZiteLab Aps represented by Niels Steen Krogh.
Euromyositis Registry is supervised by a Steering committee which includes members from countries that developed the original registry, a patient representative, and a member from DANBIO board (Danish RA registry according to which Euromyositis database has been originally developed). Administrator from ZiteLabs is a non-voting member. A chair-person is appointed for 1 year period.
We welcome clinicians and scientists who see and follow myositis adult and juvenile myositis patients!